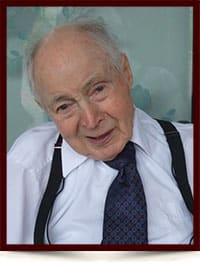 Gordon Ritchie Webster
January 7, 1922 to November 20, 2016
Gordon Webster passed away peacefully on November 20, surrounded by his family. He lived a good life and left this world with no regrets.
He leaves behind his loving wife of 66 years, Louise. Daughters Linda Relling (Tom) and Ann Stebner (Randy). Grandchildren Katrina, Megan, Len, and Jock(Michelle). Great grandchildren Julian, Cadence and Kara. Sister Audrey Becker(Walter) of Kindersley, and numerus nieces and nephews.
He was predeceased by his four brothers.
Gordon was born in Kindersley, Saskatchewan. He joined the RCAF and spent the war years ferrying planes from Lethbridge to the west coast. He stayed true to his farming roots. He got his PhD in soil science, and taught soil chemistry at the U of A for 25 years.
A special thanks to the staff at LifeStyle Options Riverbend, and South Terrace Continuing Care Centre for their kindness and care to Gordon and his family.
Gordon was a much loved, kind and gentle man. He will be greatly missed.
Celebration of Life
Friday, November 25th 2016, 1:30PM
St Johns Anglican Church
11111-57 Ave Edmonton.
In Lieu of flowers donations can be made to- Breton plots Endowment fund (c/o Faculty of Agricultural, Life& Environmental Sciences , UofA. 2-22 Agriculture-Forestry Centre. Edmonton, AB T6G 2P5), or a charity of your choice.