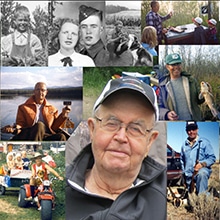 Gordon Scott
In the early hours of October 11th,2016 we lost the head of our family and loving father Gordon Scott. At the same time many of you lost an uncle, grandfather, great grandfather and a great friend. We will miss that twinkle in his eye and his mischievous smile. Love & Hugs Dad.
Gordon was the epitome of living a life to the fullest spending every minute he could outside or helping others. He was a quiet man who proudly fought for our country and volunteered countless hours to his local communities and friends.
Gordon was a hunter and gatherer, he loved to fish, hunt, garden & bake. Family and friends never went hungry with meals of fish; wild meat, mushrooms & berries; garden produce and homemade bread & pies. We enjoyed many a meal with Dad at the helm in the kitchen brewing up heavens knows what. He taught us so well, that it has become a passion to us all.
Dad taught by example and spent many loving hours teaching us kids and our kids how to forage & play keeping a few secrets to himself so as not to be outdone especially when it came to fishing and horseshoes. He taught us the value of hard work and how to work with our hands; he loved building birdhouses, gardening and tinkering, so proud of making something out of nothing.
Gordon is survived by his daughters Betty Jean (Robert) & Dawna Lee; son David; son-in-law Wayne; 11 grandchildren - Maggie, Martin (Lisa), Iris (Ken), Geoffrey (Amery), Carrie (Travis), Karen (Tony), Joni, Samantha (Jarret), Brayden, Tyane & Keynan; 18 great grandchildren – Kiara, Jacqueline, Carter, Kaylin, Sherease, Ashlyn, Elizabeth, Gracie, Aiden, Thomas, Fredrick, Ava, Scott, Zachary, Zoey, Korvyn & Kenna; numerous nieces and nephews.
Gordon lived a full life of 93 years and passed very peacefully in his sleep. He joins those dear to us that have gone before him, his loving wife of 62 years Janet; daughter, Mylss; son in law, Andy; grandson, Lee; brother, Ron & (Glady); sister, Joyce & (Hue)(Tommy)(Chris); sister-in-law, Eleanor & (Jim); parents, Mylss & Walter; parents-in-law, Jack & Betty.
A celebration of life party will be held in the near future, we are waiting for Gordon's favorite season to have a party in his honor (summer 2017). Cremation has taken place. In lieu of flowers please donate to your favorite charity in memory of Gordon Scott.