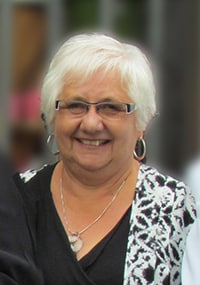 Grace Guyon (Borsa)
July 20, 1948 - January 16, 2019
It is with great sadness that the family of Grace Guyon shares her peaceful passing during her courageous battle with cancer.
Grace was born in Tway, Saskatchewan, raised in Saskatoon then moved to Edmonton, where she met the love of her life.
She had graduated from the Saskatoon City Hospital Nursing Program, later completing her Nursing degree at the University of Alberta.
She embraced the life she was living with enthusiasm, a loving wife, mother and Grandma, loyal friend, caregiver, educator and mentor.
Grace had the gift of connecting people and valued her relationships - always taking the time to share and learn from each other. She loved making memories sharing traditions, celebrating everyday activities and travelling.
She cared deeply about her family and friends and was known for her generous hospitality. Grace always set her mind on moving forward. She built her career in several areas of nursing, clinical instruction and her years of knowledge working with the Alberta Perinatal Health Program.
She is survived by her husband Ed, daughter Barb (Brent) and son Trevor (Tracy) along with six beautiful grandchildren, a loving extended family and many dear friends and colleagues.
The family would like to thank Dr. Bolster, Dr. Widder,  Dr. Shumilak, Dr. Bagshaw and their Nursing teams for their compassionate care received through the University of Alberta Hematology and ICU.
Grace's wishes were to be cremated. Invitation to share in her Celebration of Life which will be held March 2, 2019 at the Old Timers Cabin, 9430 Scona Rd NW Edmonton, Alberta starting at 1:00 pm.
In lieu of flowers, the family is encouraging blood donation through Canadian Blood Services.