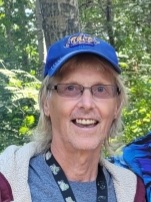 GRAHAM LEE (ADCOCK)
January 17, 1963
-
October 31, 2022
It is with profound sadness that the family of Graham Lee (Adcock) share the sad news of his passing on October 31, 2022, after his courageous battle with cancer.
Graham leaves to mourn his wife, Susan Logan, and sons, Alexander & Denon Lee, and his beloved companion, Osmand PK, his cat. Left saddened by his passing is his father, John Adcock, also his brother and sister, Stephen Hamil and Carol (Bob) Felsch; included, as well, his stepbrothers, Brett and Grant. Graham left a hole in the hearts of his in-laws, many nieces and nephews, family in England, and a huge circle of friends and family that supported him and showed a tremendous amount of love throughout this past year.
Graham is predeceased by his mother and father, Joan and Arthur Bristow, and his stepson, Matthew Logan.
Graham led an extraordinary life. He was born in Red Deer, Alberta, but being in a military family, he laid roots in many a location, including Germany, various places in Canada, ultimately calling Winnipeg home. The pride and joy of Graham's life were his sons. Family meant everything to him. He supported his elder son, Alex, and guided his younger son, Denon, into the military, of which he was immensely proud. Graham was very family oriented, and ensured that his sons celebrated holidays and birthdays. He shared a very special relationship with Susan Logan, who ultimately became his wife, throughout their 22 years of being a couple.
Graham was a collector; he was drawn to anything quirky and interesting. He has many a momento from his vast background of work history. Graham excelled at so many things; he managed 7-Elevens, McDonald's, worked at Gienow Windows; he was a bus driver, both Greyhound and St. Albert Transit; and he was a court orderly for a time, and ultimately a postal worker. At each location Graham made an impression and maintained relationships with people from a variety of backgrounds.Graham loved travel and photography. He loved to share his stories of adventure throughout Asia, the Soviet Union, and United Kingdom, ultimately meeting the mother of his children in Taiwan, Beth Lee. He was always taking pictures and loved the idea of Facebook to share his experiences with those that followed him.
Throughout the past year, Graham shared his journey with cancer and found so much love and support in the messages and well wishes from friends and family. His ultimate goal was to educate others and ensure they take their health seriously. Graham will be missed tremendously.
There will not be any formal service, as was Graham's wish, as he enjoyed a celebration of his life throughout the past year. He was able to connect and share his love with the people that were important to him.