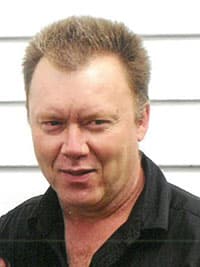 Greg Alexander Rhodes
It is with heavy hearts that we announce the peaceful passing of Greg Alexander Rhodes, on Monday, July 22, 2019 at the Royal Alexander Hospital, in Edmonton Alberta at the age of 54. He was the youngest child of Hazel Rhodes and Theadore Joseph Rhodes.
Greg was predeceased by his father Theadore Joseph Rhodes, grandparents Harry and Annie Elves and Howard and Mabel Rhodes, his aunt Alice at a 100 years old, Helen and Don Tweidt, Lois and Bert Lowe, Lanie Lowe, Rocky Lowe, August Henricks, Norm Thesen, Danny Rhodes, Jim Elves, Ken Elves, Arvid and Judy Elves, John Elves as well as numerous extended family and friends.
Greg was survived by his loving wife Christine, five children Allen, Ryan (Jailah), Theadore, Chelsea (Travis) and Katheleen (Steven), six grandchildren Mia, Thorin, Avery, Emma, Bennett and Riley, his mother Hazel Rhodes, brother Joseph and sister Thelma, father-in-law Paul Lewis (Carol Nickerson), Donna Lewis, Paul Lewis jr, Nona Lewis and their families as well as all that knew and loved him. During his stay at the hospital, Greg met a friend, Ed Woods. The two of them often roamed the streets of downtown Edmonton.
Greg was born on March 2, 1965, in Nipawin Saskatchewan. He grew up in Prince Albert, SK, where he met his future wife Christine. He was passionate about farming, often looking forward to and loved the rush of harvest every year. Later he became a truck driver and enjoyed traveling much of North America. He was a proud ice road trucker and also worked in the oilfields of Alberta.
In July of 2014, Greg was involved in a life changing accident that hospitalized him for 5 years up until the day of his passing.
Greg and Christine were married for over 30 years, and recently celebrated that anniversary in Edmonton, Alberta. Greg loved all of his kids and grandchildren. He was so proud of all of them and their accomplishments throughout their many milestones.
During his life Greg and Christine had many adventures that took them throughout Saskatchewan, Alberta and BC. They moved often during the school breaks to many new places for endless new adventures.
"I am a Rhodes so I own the roads"
Celebration of Life
2:00PM Monday July 29, 2019
Trinity Funeral Home
10530-116 Street Edmonton, AB