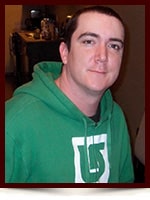 Greg Schultz
October 16, 1978 – November 26, 2012
It is with great sadness that we announce the sudden passing of Greg Schultz at the age of 34 years in Edmonton, Alberta. He is survived by his mother Gail Wilson and step-father Roger Wilson of Cornwallis Park, NS as well as numerous aunts, uncles and cousins. He will also be greatly missed by his many friends in both his birth province of Nova Scotia and his current home in Alberta.
He followed his passion and pursued a career in culinary arts, a job that took him out west and gave him an opportunity to hone his skills and to work with and be taught by some wonderful people. A special thank you is given to his family at the Upper Crust Restaurant in Edmonton for all of the love that they have shown him. His other passions in life were music, sports and entertaining people. His wonderful sense of humor made him a joy to be around. He was a kind, generous and charming person who had the ability to make people he met feel special. He leaves behind a huge void in our lives and will be greatly missed; but never forgotten.
Cremation has taken place and memorial services will be held in both Edmonton and Halifax at a date to be determined. Rob Taylor (Edmonton) and Nicole Daniels (Halifax have created Facebook groups and these will carry further details.