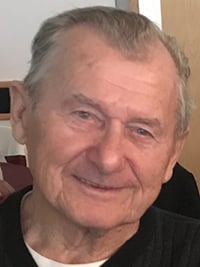 Gustav Becker
January 01, 1935 - January 27, 2021
It is with great sadness that the family of Gustav "Gus" Becker announces his passing, on Wednesday, January 27, 2021, at the age of 86 years.
Gus will be lovingly remembered by his wife of 61 years, Helen and his children: Leighann (Patrick) and Laureen (Dave). Gus will be forever remembered by his eleven grandchildren: Jayden (Carlie), Julia, Tyler, Austyne (Tamara), Marsaydes, Whyatt, Joshywa, Braeden and Madison; his sister Erika (Folmer) Madsen, his brother Bill (Brenda) Becker; nieces, nephews, brother & sister in laws, friends; and of course all the grand fur babies.
Gus was predeceased by his parents Wanda & Edward Becker, his sister Adele (Fred) Thurner and brother Rudy Becker.
Due to COVID -19 a funeral will not be held.
A private celebration of life will be held following cremation.
When you hear the song Go rest high on the mountain by Vince Gill, think of all the wonderful memories we have of Gus. Forever loved and Forever will be missed!
In lieu of flowers, donations in Gus's name may be made to ones charity of choice.