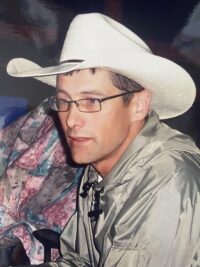 Guy Aaron Boisjoli
January 30, 1973
-
December 22, 2021
It is with deep sadness and heartbreak that we announce the passing of Guy Aaron Boisjoli.
Guy was born on January 30, 1973, and passed away on December 22, 2021, in Edmonton, AB from multiple health complications.
Guy will be forever remembered and sadly missed by his parents, Garry & Darlene Boisjoli of Strathmore, AB, Brother Garth (Sherry) Boisjoli of Langdon,AB,  Sister Kelli (Walter) Reding of Craigmyle, AB, nieces  Makayla (Wyatt) Boisjoli-Williams, Shelby Boisjoli, and Marissa Boisjoli all residing in Texas, and nephews Ryan & Nathan Reding from Craigmyle, AB., Grandpa Matt (Jackie) Bates of Olds, AB,  As well, he is survived by numerous aunts, uncles, cousins and friends.
Guy is predeceased by some amazing grandparents, uncles, aunts, friends, and a long list of cowboys also gone too soon that will be eager to see him again.
As a kid, Guy loved horses, dogs, riding, roping, sleeping under the stars and Christmas!
He graduated from Willow Creek High School in Claresholm AB, and carried on to live a life filled with Adventure, seeing most of Alberta and BC along the way.
Despite being diagnosed with Type 1 Diabetes in his teens, Guy carried on to drive truck, train horses, rope, rodeo, ride lease, guide, Wrangle, and everything in between.  
He was never one to stay too long in one place and leaves behind many friends, roping partners, and co -workers along the way.
With no children of his own, his greatest privilege came from being  "Uncle Guy".  He was extremely proud of his nieces and nephews and loved them more than anything else in the world.
In the last 7 years Guys health deteriorated from complications with his battle with diabetes and kidney failure, and he focused more on spending time with family.  His greatest joy came from winter trips to Arizona with family, summer reunions, fishing trips and holidays spent playing cards and visiting the aunts, uncles, cousins, extended family and friends.  
He endured more health issues in his short life than anyone deserves, despite every effort from his family to help his fight, in the end, the battle was just too much for his body to overcome.
RIP cowboy, your fees are all paid.
There will be no funeral at this time, a celebration of life will be planned at a later date.
In lieu of flowers, please use those resources to make memories with your family, friends and check things off of your bucket list.
The lord spoke to the heavy hearts that stood with hats in hand "your sadness pains me deeply and I know you'll miss this man".
But, it's true what you've been hearing, Heaven is a real place. 
That's no consolation, you should use that fact to face. 
The emptiness his parting left that seeps into your bones
and draw on it to ease your pain, for he is not alone.
 You see, all his friends are up here and all his loved ones, too, cause it wouldn't be heaven without each one of you. 
And Heaven for a cowboy is just what you might expect, it's horses that need tunin up and heifers that need checked.
 It's long rides with a purpose and a code that lights the way and a satisfying reason to get up every day. 
It's the ranch he's always dreamed of and never knew he'd find.
 And if you think about it, you can see it in your mind. 
Him, leanin in the saddle with his ol' hat on his head, contentment set upon his face like blankets on a bed. 
The leather creeks a little as he shifts there in the seat. 
The bit chains give a jingle when his pony switches feet. 
And you somehow get the feelin that he's sittin on a throne. A' gazin out on paradise just like it was his own. 
I can promise you he is happy, though I know you can't pretend, you're glad he made the journey, it's too hard to comprehend. 
The earthly way you look at things can never satisfy your lack of understanding for the answer to the 'why?'
So, I offer this small comfort to put your grief to rest, I only take the top hands 'cause my crews the very best.
And I know it may seem selfish to friends and next of kin but I needed one more cowboy and Guy Boisjoli fit right in." 
-Baxter Black