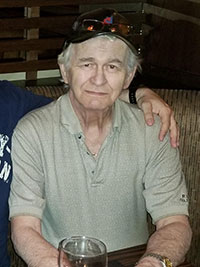 Harold (Hal) Ciprick
Harold (Hal) Ciprick, of Edmonton Alberta, passed away with his son at his side on 23 Dec 2018, aged 74 years.
Harold was predeceased by his brother Gerald Ciprick and by his parents Joe and Nellie Ciprick.
He is survived by his sister Edith (Dave), his brother Charlie (Lorraine), sister Eleanor (Barry), sister Doreen, son Jason (Heather), grandson Ryan, and many nieces, nephews, and extended family who all loved him.
Dad was born on 4 Sep 1944 in Flin Flon MB. Throughout his life, he truly became the true definition of a "Jack of All Trades". Having served time with the Royal Canadian Air Force, and numerous jobs over the years working in Mining, Construction, Mechanics, and Trucking, he was very versed in numerous occupations and was always the "go-to-guy" whenever someone needed a hand, whether it was an employer, a coworker, or a friend.
Aside from his vast knowledge, he was also one of the strongest (and stubborn) men there were. A number of years ago when driving truck, Dad severely broke his right ankle. As he happened to be wearing his favorite cowboy boots at the time, he refused to go to the hospital in fear they would cut the boot off his foot. He continued to work for the next 24 hours with a broken ankle before being told by his boss to get it looked at. When he was asked at the hospital by the attending physician why he didn't come in sooner, Dad, in his usual no bull way, simply stated "I am wearing my favorite boots and didn't want you to cut them off". The doctor still insisted this must happen, so rather than allowing that, Dad reached down and pulled the boot off his broken leg to save the pair of boots.
In the 1990's, Dad was diagnosed with the rarest form of cancer known, a type that spreads in the nerve endings. With no known or proven treatment, he volunteered to be treated by a trial medical drug with 12 other participants from across North America. He fought hard during this treatment, which went on for years, and just about succumbed to the treatment several times. However, not only did he beat the cancer, he was the only one out of the 13 participants to survive.
The last few years were a struggle for Dad, dealing with numerous heart attacks, having a pacemaker and diffibulator implanted in his chest, and he dealt with all of the ripple effects caused by a failing heart. But through all of his health issues, he would maintain regular contact with family and friends, even to talk to a trucking buddy in the early morning hours to help pass the time on a long night. No matter the situation, Dad always made himself available to help those he loved.
He was admitted into the Grey Nuns Hospital on Monday, 17 Dec 2018 and was put straight into the Cardiac Care Unit. He was then moved to the Unit 43 Palliative Care on Saturday, 22 Dec 2018. On 23 Dec 2018 at 2120hrs (9:20 pm), Harold Richard Ciprick took his final breath seconds after his son said "It's ok Dad, I am right here and I love you very much". With that in his ears, he passed away.
Dad will be deeply missed by all who knew him and will never be forgotten. He was loved by so many.
A special thanks to all the staff in the Grey Nuns CCU and Unit 43 Palliative Care for all of their care and support.