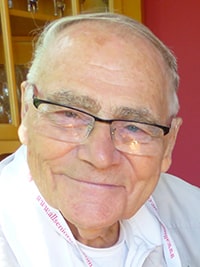 Hartmut Eric Boehm
February 21, 1929 – October 25, 2018
On Thursday, October 25th, as the almost full moon climbed into the sky, "the best looking guy in town" rose to dance once more amongst the stars. Born in Germany, Hart moved to Canada in 1961.  A heavy duty mechanic who later blossomed into an amazing, seniors tennis player, he loved music and most importantly, he loved to dance. He would be the first on the dance floor and the last to leave.
Hart was predeceased by his wife, Helga, in 2005. He is survived by daughter Connie (Doug), son Ron (Cindy), grandchildren Matt (Dana) and Becky (Brad) and great grandchildren Allie, Birch, Jude and Field. He is also survived by brothers Horst (Balbina), Werner (Karin), sisters Christine (Otto), Monica, and special nephew Uwe (Birgit). He was also loved by Doug's daughters, Liza, Amy, Kyra and their families and by long time friend Frank and his family.
He leaves behind his companion Regina with whom he spent many happy times. Our family sends special thanks to Joanne Blair, RN, who provided so much support to him and allowed him to live independently to the end. And to the amazing doctors and nurses on the Palliative Unit 43 at the Grey Nuns who made his last journey bearable with their warmth and compassionate support.
Hart will be missed by many and remembered by all. The Great Opa will live on in all our hearts.  As requested by Hart there will be no funeral. A celebration of life will be announced at a later time.  Donations in his memory can be made to the Cross Cancer Institute.