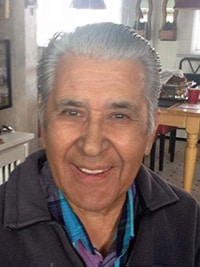 Harvey Gilbert Letendre (Chaps)
June 13/1931- Oct 13/2018.
It is with great sadness and much love that we say goodbye to Helen's sweetheart and loving husband of 61 years, He was a great dad, grandpa (PAPA) and a great grandpa.
He is survived by his wife Helen, his sons Kane (predeceased), Darcy (Karmen), Royce and his daughters Jenny and Monica. His grandchildren Jonathon, Ryan, Carey, Josh, Samantha, Travis, Lexi, Mary, Rebecca, Quinn, and great grandchildren Drayel, Grayson, Adrianna, Skye plus his many brothers and sister's.
CELEBRATION OF LIFE will be held for Harvey (CHAPS) where he was born on June 15/2019 at their property at Lac St.Anne, Details to follow at a later date.