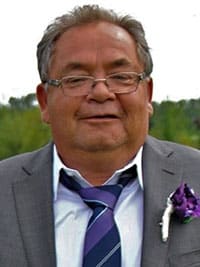 Harvey Keys
On January 19, 2021, Harvey Keys passed suddenly in Edmonton at 62 years old.
Harvey is survived by his daughter Josselyn DeMarco and husband Brent DeMarco, and siblings Ron Keys and his wife Debra Keys and their three children, George Keys, Wanda Keys and her son and Wendy Bent. In addition, an extend family community in the Annapolis Valley, Nova Scotia. He was preceded in death by his father Woodrow Keys and mother Marie Keys.
Harvey was born on August 12, 1958 in Hamilton, Ontario. Harvey lived in Edmonton in his early adult life learning trades, until he found a love for building and carpentry. Discovery a career in building sets for Movies and TV shows took him to California. He had the ability to build anything, "If you can draw it, I can build it" he used to say. One of Harvey's greatest accomplishment was being a father, raising his daughter Josselyn as a single dad. He was a loving and giving man who had a passion for creation, always coming up with new furniture designs using reclaimed wood. Harvey moved back to Canada to be close to family with a desire and hope to reconnect with distant family. Spending his last years close to his daughter in Red Deer, he built furniture and developed close friendships in his community. Harvey had an impeccable imagination when it came to building, a true crafts man.
A memorial service for Harvey is scheduled for June 19th in Red Deer, please contact daughter Josselyn for further details at harvey@resourcebearing.com. In addition, there has been a YouTube channel created where friends and family can post a video or post a memory of Harvey. Please send requests or videos to the above email address to be posted to the Channel. Harvey enjoyed being in the Media and family would love to carry on this by have a channel of memories that will live on.