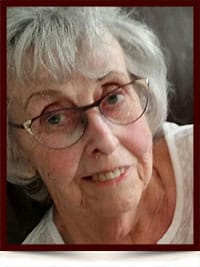 Hazel (Eileen) Gibbs
On Tuesday, November 22, 2016 Eileen Gibbs of Edmonton passed away at the age of 81.
Eileen is survived by her loving children; Colleen (Kevin) Chiles of Edmonton, Cathy Fraser of Parkland County, Kelly Gibbs of Edmonton and Gerry (Peggy) Gibbs of Whiterock, B.C., Gordon (Kelly) Gibbs of Edmonton; twelve grandchildren, Michael, Patricia, Kelsie, Matthew, Cara, Christopher, Gerry, Myles, Jamie, Alexander, Dawn, Sydney and numerous great-grandchildren.
Eileen was predeceased by the love of her life Gerry, grandchild Allison, great-grandchild Rhys and by her brother Ron and sister Bess.
Funeral Service
Sunday, November 27, 2016 at 12:30 p.m
Trinity Funeral Home Chapel
10530 116 Street, Edmonton
Interment to follow at a later day in the Masonic Cemetery, Burnaby, B.C.
If desired, donations may be made directly to the Mazankowski Heart Institute, 1H1.91 Walter MacKenzie Science Centre, 8440 112 St. Edmonton, AB. T6G 2B7.