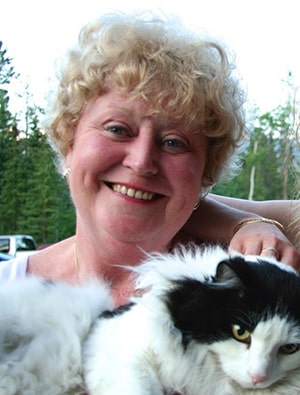 Heather Elaine Wilson
Oct 7, 1950 to Feb 5, 2021
Heather Elaine Wilson passed away unexpectedly on February 5th in Edmonton, Alberta. With her passion for teaching young children, she was able to give a positive start to hundreds of children's lives during her long teaching career.
Born on October 7th, 1950 in Nordegg, Alberta Heather moved to Jasper Alberta at age four.  She developed many good friendships during her school years that have stood the test of time. Her graduating class of 1968 still gets together for reunions every five years. She was married to Dick Vathje for over 20 years and they had one daughter, Tammy Vathje. Heather started her own business, A Child's Garden Preschool Ltd. with a partner, and they had many successful years of operation until it was finally sold.  Heathers' love of animals started early and continued throughout her entire life.  At one point she had the opportunity to live out her dream on 'the land', a 140-acre property, with her horses, dogs, bunnies, a turtle and, of course, her many cats. Heather is survived not only by her daughter, but several of her beloved cats.
Heather was known for her kindness and compassion for all things great or small. She was a true friend and was strong in her convictions. She had a flare for fashion and was often complimented by complete strangers!  She was known for her 'pizzazz' and being passionate in life.
In lieu of flowers, please send a donation to any animal rescue organization that is 100% volunteer run, some examples are:  The Hervey Foundation for Cats, The Hinton and District Spay and Neuter Society (HADSANS), ARTS Senior Animal Rescue, Second Chance Animal Rescue (SCARS), Zoe's Animal Rescue – to name a few.