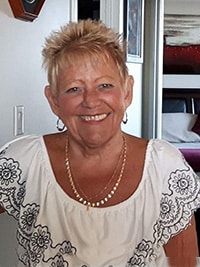 Heather May Jacques (Fisher)
At the Royal Alexander Hospital on Sunday February 25/2018, Heather Jacques (née Fisher) of Edmonton, Alberta passed away at the age of 72. Predeceased by her parents Victor Fisher and Hazel Fisher (Fielding). Loving wife of 45 years to Paul Andrew Jacques. Sister to Glen Fisher (Ginette). Proud and loving mother of Karen de Orla (Chris), Sandra Phaneuf (Jean Lafantaisie) and Rodney Phaneuf (Deanna). Grandmother to David de Orla (Tyrel Mann), Kevin de Orla, Maxime Lafantaisie (Stephanie Audet), Nicholas Lafantaisie (Claudia Constantineau), Patricia Lafantaisie (David Boudreau), Vicky Phaneuf, Cindy Phaneuf. Step-grandmother to Amber Springer, Amanda Vachon, Desiree Kapelari.  Great-grandmother to Coralie Audet Lafantaisie, Maïka Boudreau, Félicia Lafantaisie. Fondly remembered by her cousins Peggy Savard Bougie, Renee Harris.
After 15 years of constantly fighting 6 different types of cancer, no more pain, just a peaceful drift off to sleep. Heather was a fighter, never giving up on life, confounding doctors, beating all the odds that were against her.
Heather was very much a people person. She made people laugh, had a kind heart and willing to listen to anyone. Her happiest years were when she was living in the NWT. She loved life and her family. She will be missed by so many.
In respect of Heather's wishes there will be no visitation or service. In memory of Heather, a donation can be made to:
Royal Alexander Hospital Foundation
10240 Kingsway Ave NW Edmonton AB T5H 3V9
Or online to:
From the Home page, scroll to: Lois Hole Hospital for Women, click on Donate, click on Tribute Gift – In Memory. For Donation type, select Monthly or One time and select an amount. Fund Allocation should be Lois Hole Hospital for Women and fill in the remainder of the page. Click Continue and you will be prompted for the name of the person to gift to Heather M Jacques and optionally select an e-card or no card. If you select an e-card, enter the required information and an e-card will be sent to the recipients email address from the hospital. Whether you choose an e-card or no card, a card will be mailed to the family.
Donations are confidential and for the hospital only.
Karen's email address: kdeorla@gmail.com
If you need help or have questions about this Foundation, please call Jackie Unger at 780-735-8705.