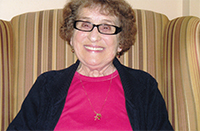 Helen Margaret Richards (nee Pelerine)
February 27, 1928
-
August 18, 2021
It is with great sadness that we announce the passing of our wonderful mother on August 18, 2021 in Edmonton, AB. Helen was born in New Glasgow, Nova Scotia on February 27, 1928 to David and Elizabeth Pelerine.
Helen was a hard worker and loved life, she loved to sew, quilt, hook rugs and do just about anything crafty when she wasn't raising her children. She had many hobbies.
She will be remembered by her children – Paulette (Rex), Oshawa, ON, Edmund, New Glasgow, NS, David, Moncton, NB, Marilyn, Edmonton, AB, Brent, Edmonton, AB, Mike (Marilyn), Edmonton, AB, Susan (Kevin), New Glasgow, NS, Raymond, Port Hope, ON, Joyce (Eric), Courtice, ON and Adam (Emily), Calgary, AB. She is also survived by her grandchildren Steve, Amber, Kimberly, Holly, Brian, Jennifer, Amy, Johnathan, Timothy, John, Rachel, Christa, Ryan, Chelsea and Jaime; great grandchildren Joey, Liam, Eric, Tyler, Taylor, Byron, Ariel, Aleah, Noah, Anthony, Azaiah and Kiara. She is also survived by her sisters Anna Pelerine, New Glasgow, NS; Mary Alice, (Don) Cameron, Antigonish, NS; Pauline Olsen, Roanoke, VA and a brother Gregory Pelerine, Beamsville, ON as well as nieces and nephews too numerous to mention.
She was predeceased by her parents, her husband John, son Leslie, grandchildren Paul, April and Wayne (Duke) and brothers Art and Henry.
Helen did not want a service of any kind and has requested her body be donated to science. She will be cremated at Trinity Funeral Home, Edmonton. Her ashes will be placed at a later date.