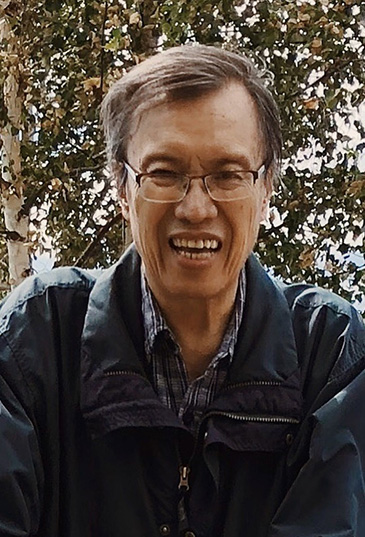 Henry Kai-Hon Wong
May 1949 - April 25, 2022
We are sad to announce the unexpected passing of our beloved Henry Kai-Hon Wong, who entered into the arms of his Heavenly Father on April 25, 2022 at age 72.
Henry was born in Kowloon, Hong Kong in 1949 to Rose Yeung and Jeffrey Wong. He grew up with his sister Virginia. He loved music from a young age and moved to Canada in 1968 to continue his schooling. As he got older, his love for learning increased and he received micro-computer training. He enjoyed gadgets, technology, and upgrading computers. Henry was resourceful & creative. He loved Jesus and wanted others to know & understand His love for them as well. He was a charter member of Edmonton Chinese Alliance Church (ECAC). He humbly served his church and ministered to others through music and technology.
During high school, Henry met Sylvia while singing together in a church choir. They fell in love and got married in Edmonton, Alberta. They started a family and had 4 children, Gloria, Edward, Anita, & Connie, and Henry worked hard to provide for them. As a family, they spent summers going on road trips, camping & enjoying the outdoors. Henry was a loving, kind, and dependable husband & father. Henry prayed faithfully for his family and friends, and leaving a legacy of faith was of utmost importance to him. Henry had a calming, easygoing presence & a wonderful sense of humor. He enjoyed making people laugh with his different impersonations.
In addition to his wife Sylvia & children (Gloria, Edward, Anita, & Connie), Henry is survived by his sons-in-law Red (Martin) Tufts, Jeremy Smith, & Paul Gerbrandt, & daughter-in-law Grace (Min) Zhang, as well as his eleven grandchildren (Callie, Zane, Ella, & Jude Smith; Isabel, Eliana, Zoe, & Zanna Gerbrandt; Dakota & Emily Tufts; & Avery Wong), and his sister Virginia & brother-in-law Wai-Wing Chan.
A private viewing and funeral service will be held on May 3 for close family & friends.
~~~~~~~~~~~~~~~~
我們帶著沈痛的心情,向大家報告,我們摯愛的黃啟康於 2022 年 4 月 25 日突然離世,投回到天父的懷抱,享年72 歲。
黃啟康於1949年出生於香港九龍,家中有父親黃益初 (Jeffrey Wong),母親楊淑君 (Rose Yeung)和姐姐 黃媛珍(Virginia)。他從小熱愛音樂,1968年移居到加拿大繼續求學。隨著年齡的增長,他對學習的熱愛與日俱增,並接受了微型電腦的培訓。他喜歡機械小器具和新科技,亦時常改善電腦和升級至新版本。黃啟康足智多謀,且富有創造力。他愛耶穌,並希望其他人也知道並理解耶穌對他們的愛。他是愛城華人宣道會的創始成員。他謙卑地為他的教會服務,並通過音樂和技術服侍他人。
高中時,黃啟康在參加教堂的合唱團時認識馬妙潔。倆人墜入愛河並在艾伯塔省埃德蒙頓結婚。他們組建了一個家庭,育有 4 個孩子,Gloria、Edward、Anita 和Connie。黃啟康努力養活他們。一家人在夏天時去外地旅行、露營和享受戶外活動。黃啟康是一位慈愛、善良、可信靠的丈夫和父親。他時常忠心地為他的家人和朋友祈禱,留下信仰的遺產對他來說是至關重要。黃啟康有一種平靜、隨和的心態和極好的幽默感,他喜歡用不同的模仿方式讓人們發笑。
未亡人除了他的妻子 馬妙潔 和孩子們 Gloria、Edward、Anita 和 Connie外,還有女婿 Red(Martin)Tufts、Jeremy Smith、Paul Gerbrandt 和兒媳 Grace(张敏)和他的十一個孫子女(Callie、Zane、Ella 和 Jude Smith;Isabel、Eliana、Zoe 和 Zanna Gerbrandt;Dakota 和 Emily Tufts、和 Avery Wong),以及他的姐姐 陳黃媛珍 (Virginia Chan)和姐夫 陳惠榮(Wai Wing Chan)。