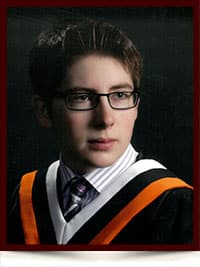 Henry William Fafard
Henry was a kind, generous, honest, honourable and stoic young man.
He was fiercely private and equally disciplined. He hated onions, mushrooms. Mostly though, he hated going to school but he went daily without complaint and graduated from McNally High School in 2015. Henry loved athletics. Weight lifting and Karate were his passions and he recently obtained a brown belt under Sensei Fuchs. He enjoyed cycling, and over the past few years he had many bikes. Mostly because his Mom and Uncle Brian kept leaving the garage door open. He was often seen longboarding through Forest Heights on the freshly paved roads, always without a helmet and much to his Mothers chagrin.
His Dad loved cooking chili for him, and they spent a lot of time together building snow forts, fishing, building fires, skating…they did so much together. And hung out with Eldon. He was an avid online gamer and spent many hours gaming in his man cave. He was proud of his own computer system as he had built it from the "ground up."
Henry was a homebody of sorts, and loved spending time there. He lifted weight six days a week in the basement, and he knew exactly how many calories he needed to maintain his perfect physique. He balanced this through his Mom's cooking and Pizza 73.
His favorite pastime, really, was torturing Eldon. They called it "Brothership." They had a unique way of expressing love. But there was a deep love and bond between Henry and Eldon.
He loved his Bob's and Dode and Grampa and Grandma dearly. He knew he was safe with them and would always be well fed.
He was so proud to have his drivers license and his new job at Rogers Place. Henry was humble with respect to his many accomplishments.
Henry was, and will forever be, deeply loved by many. And never forgotten by his Mother Lorelei, Father Paul, brother Eldon, loving grandparents, and many aunts, uncles, cousins and bud's
His life, although it may be judged by some to be too brief, was indeed long and worthwhile.
Celebration of Life
Sunday November 6, 7:00PM
Centre for Spiritual Living
7621 101 Ave NW, Edmonton
Memorial Donations
Canadian Mental Health Association, Edmonton Region
10010 105 St NW #300, Edmonton, AB T5J 1C4