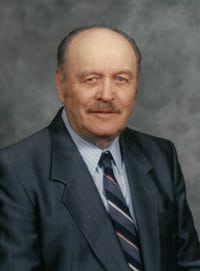 Herbert Henry Buchholtz
On May 29, 2020 Herb Buchholtz of Edmonton, passed away peacefully at the age of 86 with family by his side.
Herb was born Jan 26, 1934 in the Sand Hills area around Bruderheim, Alberta.  He arrived to a loving, caring, Christian family, Emil, Lydia and older brother Elmer.  His early years were spent on the family farms including the last in Barrhead, Alberta.  There he played and worked with his brother and enjoyed the many animals and outdoors.  Although it had its challenges it was a young boys dream.
He attended Concordia High School in Edmonton, where he also resided.  He played hockey, a goaltender at a time with no masks.  He loved baseball playing well into his adult years in the Lutheran Church League.  He continued to watch it on TV to the end.
He left school early as his father fell ill with polio.  He returned to the farm to assist his family and father's recovery.
He met Frieda at a mutual wedding in Westlock.  They dated, fell in love and were married at Trinity Lutheran Church in 1954.  Their parents, family and friends hosted a farm held reception and meal for 200 guests.  Herb and Frieda lovingly raised three children: two daughters and a son.
In his early years Herb embraced many employment opportunities, order taker, salesman, manager and owner of a real estate company.  His journey took the family to Drayton Valley, where he operated Buchholtz Construction, Douglas Hardware and E-H Distributers an International Harvester Equipment Dealership.  He retired in 1989 as the Construction Manager of Melcor Developments Ltd in Edmonton.
In retirement he continued his life's passion of buying and selling snowmobiles, motorcycles and ATV's through his company Road Runner Hobbies.  It later became a leasing business that he operated until 2006.
Herb and Frieda found time for travel taking numerous trips.  Introduced early in life by family and friends to winters in the south, they enjoyed 24 warm winters in the Phoenix area.
In the early 60's along with his brother and father, Herb and Frieda joined the Lutheran Camp Association at Lake Isle.    It was and remained a great source of joy, fellowship and worship until he fell ill in 2018.  The family cabin he built and shared remains a place filled with love and memories.
Herb said his greatest accomplishment was his family including his wife of 65 years.   They all knew his love.
There were two constants in Herb's life, his God and his family.  Herb will be remembered for the way he lived, loved, cried and generosity that knew no bounds.
He was our rock and our teddy bear.
Herb is lovingly remembered by:
His wife Frieda, his daughter Brenda (Joe), his son Douglas (Pat), daughter Nancy (Terry - deceased) grandchildren Jacquie, Ryan, Sam, Ashlyn, Lindsay, Kristen and great granddaughter Natalie.  He is also survived by his brother Elmer (Mary) and numerous nephews and nieces.
John 14:6  "Jesus said, I am the way, the truth and the light. No man comes to the Father except through me"