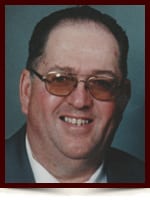 Herbert Raphael Ulrich
October 3, 1948 - December 12, 2011
Herbert Ulrich of Villeneuve, AB was born in Vienna Austria and was raised in Uranium City, Saskatchewan. He spent many years in Northern Alberta before settling down in Slave Lake.  Herbert was an avid outdoors man who loved taking hikes, swimming, camping, and watching wildlife and scenery.  His hobbies included photography, film, collecting stamps and coins, gardening and baking. Herb was known for his amazing pumpkin pies and cinnamon buns.  He was always quick with a joke and enjoyed making people laugh.  He was always there to help family, friends and neighbors and spent countless hours volunteering for various organizations in Slave Lake.
Herbert will be forever remembered by his loving children Carl Ulrich and Carla Ulrich as well as granddaughter Hailey Schock, sister Wally Pelissier, brother in law Dany Pelissier and neice Hedwig Pelissier-Feser as well numerous nieces, nephews, family and friends.  He was preceded in death by his beloved father Ralph Ulrich, loving mother Aloisia Ulrich and cherished niece Daniella Pelissier.
Herbert touched the lives of many with his trademark sense of humour and smile, he will always be remembered for his generosity, quick wit and zest for life.
Memorial Mass
Thursday December 22, 2011
St. Peter Celestin Catholic Church 208 3 Ave, NW
Slave Lake, AB
Memorial Donations
Slave Lake Auxiliary Hospital