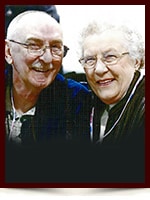 Horst & Erna Powelske
POWELSKE, HORST HELMUT
POWELSKE, ERNA (Nee Hold)
In truly a "NOTEBOOK" storyline style event, on December 24th, 2012, both Helmut and Erna passed away peacefully. Helmut was 79 and Erna was 85. They will both lovingly be remembered and missed by their sons/daughters-in-law Wayne/Jeannine, Rodney/Janice, and Keith/Corinne, grandchildren, Brittnee, Brandyn, Carly and Kristie as well many countless relatives and close friends.
Helmut was born and raised in Edmonton. Erna was born in Poland and raised on a farm in Rolyview. They married, then raised their family in Edmonton where they still called home at the time of their passing.
Both were predeceased by their parents, Emile and Elsie Powelske, Gottlieb and Ida Hold as well as by a grandson, Daniel Powelske. Helmut also by his brother Harold and Erna by her sister Alma.
Together forever, free of all worldly pain and suffering.
To honor our parents requests, no funeral will be held. Their wishes are to have a memorial service in the springtime...and as mom most caringly stated,"when the weather is warmer and people can travel easier".
The family would like to thank the staffs at the Grey Nuns, Misericordia, and St Joseph's hospitals for taking such good care of both Mom and Dad.
In lieu of floral tributes, donations may be made in Helmut and Erna's name to either the Canadian Cancer Society or the Canadian Heart and Stroke Foundation.