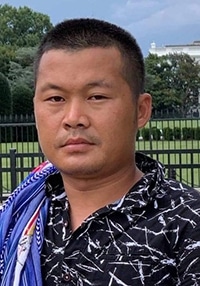 Htoo La Wah
September 23, 1988 - December 15, 2019
On Sunday, December 15, 2019,  Htoo La Wah went to be with his Lord and Saviour at the young age of 31 when he died suddenly in a workplace accident.   Htoo La was a very happy and kind husband, wonderful daddy, loving son and brother, and great friend to so many people.  He was a gentle, quiet, hardworking man, who loved being outdoors working or hunting.  He had a fierce love for his Karen culture and people and wanted to stand up for their rights.   Htoo La had a strong sense of right and wrong and always looked at things in a positive way.
Htoo La will be forever missed and always remembered by his family: his wife Kee Lar, daughter Claudia and little son Klo Doh, who looks so much like him.
Htoo La's parents: Boe Boe Gyi & Htoo Lay, brother Sha The Ler Htoo, sister Paw Tha La Htoo and brother KM'wee Htoo grieve his loss as does Keelar's whole family and his many friends who loved him very much.
A Celebration of Htoo La's life will be held on:
Friday, December 20, 2019 at 1:00 pm in
Maranatha Christian Reformed Church,
11905 - 47 Street, Edmonton, AB
with Pastor Terence Visser officiating.
There will be a viewing beginning at 12:00pm just prior to the service.
Htoo La will be laid to rest at Little Mountain Cemetery
 16025 - 54 Street NW -  after the service.   
"Let not your hearts be troubled. Believe in God; believe also in me. In my Father's house are many rooms. If it were not so, would I have told you that I go to prepare a place for you? And if I go and prepare a place for you, I will come again and will take you to myself, that where I am you may be also.  John 14: 1-3