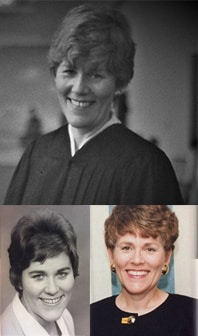 Inge Brown
A toast to Inge
Good bye
Most of you know, but some still may not, that Inge sighed deeply and left this world on May 8, 2020. She was 84. She was married to Des from 1962 to 2018.
You may remember her sashaying down the echoing halls of the English department in a smart suit, her 3" Amalfis tapping on the shiny stone, nails perfectly polished in oxblood red - like she owned place - and Des was fond of saying that she did, or ran it, anyway. You might recall her long legs crossed elegantly to the left, her never-out-of-place hair, deep, thoughtful grey eyes and lovely smile, maybe also the cheeky one.
You may remember her raising a glass of chilled German white at her dinner table, or yours, over many a fine repast, toasting the company of friends and family and the precious times of all our lives… Graduations, birthdays, weddings, Christmases and new jobs… Beating cancer, traveling home to Germany and to great adventures around the globe, welcoming cherished friends from long ago and far away as well as beloved colleagues and neighbours.
Possibly by late summer the faculty club will have permission for people to gather and celebrate Inge's life in the style befitting her, but until then please raise a glass...
… to a life well lived with all those adventures, travels, achievements, celebrations and all the days of laughter and hardship, loss and victory, as well as cake and whipped cream... Sahne bitte
But let us also recognize her herculean effort and the bravery it took to endure the pain and tragedies of the last five years of her existence. And let us be grateful that she was afforded a measure of grace... unexpected pleasures in her last year visited upon her by Deutsch companion Kirsten. And you can clink glasses knowing too that now Inge is safe. She is finally free.
Please, let us toast Inge together, apart, where-ever you are on May 29, 2020 at 8pm. And if you are so inclined, add your toasts, reminiscences and comments to Inge's virtual toast at https://www.trinityfuneralhome.ca/inge-brown
Also, please pass this invitation to anyone you know who was fond of Inge.
In lieu of donations please lobby your local politician (or Inge's: MLA Lori Sigurdson) for better treatment of the valuable humans who have no choice but to live in nursing homes, longterm care facilities, and the like.