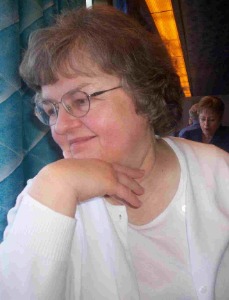 Ingrid Louise DeLancey (nee Swanson)
April 5, 1944
-
January 22, 2023
With much love, the family announces that Ingrid went home to be with our Lord on January 22, 2023 after a brief illness.
Ingrid was born in Lake Eliza, Alberta, the youngest child of Nels Gustav and Agda Maria Swanson. Missing her already is her husband Jim, sons Jay (Tanya) and Kevin (Melissa) and her loving granddaughters Ava and Kaitlyn.
She is survived by her brothers Harold and Erling, sisters Mary, Bernice and Margaret. As well as by Jim's siblings Dick (Sharon), Bob, Reg (Debra), Don (Kim), Evelyn (Richard) and Marsha (Dale).
Ingrid was predeceased by her parents Gus and Agda, her brother Wally, sisters-in-law Faith, Lil, and Joyce, brothers-in-law Gordon, Eugene and Ted.
After growing up on the family farm near Lake Eliza, Alberta, Ingrid completed her high school in St. Paul and moved to Edmonton where she graduated in 1964 from the University of Alberta as a Dental Hygienist. After a time working with her brother-in-law Eugene Dolinsky in Jasper, she began a career in public dental hygiene working with her lifetime friend Marie Tunheim as they visited schools in Calgary and Athabasca before she took a position with the Dept. of Health travelling to schools in the northern settlements out of Yellowknife. She met Jim in Yellowknife and in 1969 they moved to Edmonton where she retired in 1976 to be home with her children. Later, she loved a time as a photographer of new born babies at the Royal Alexandra Hospital and many years as a "lunch-lady" serving hot lunches to the inner city school students.
Ingrid loved working with children and is fondly remembered by school student dental patients, Sunday School students, girls she taught in the groups at Highlands Baptist church as well as always being mom to the neighbor latch-key kids. "Nana" was adored by her granddaughters, Ava and Kaitlyn, as she spent much quality time playing games, watching them learn to swim and skate, teaching cooking, knitting and crafts. No matter how busy life got, Nana and Papa were blessed by every moment they shared with the girls.
She was the solid strength supporting Jim for 52 years in his business careers at North Star Sports and Elk River Consulting, always ready to help with anything at all. They enjoyed travelling over the years to many countries as well as every province and territory throughout Canada from the Pacific to the Atlantic and the Arctic Oceans.
Jim would like to acknowledge the amazing care she received for the past month at the Robbins Pavilion in the Royal Alexandra Hospital. The daily oversight and communication with Doctors V. Captan and M. Lyszczyk and their teams, and the tender care from all the staff in Unit 5 East and the Eye Institute with Dr. N. Arnold, was the best one could ask for. You are all very much appreciated by Jim and the family.
Celebration of Life to be held at 11am, February 4 at Dovercourt Baptist Church, 12321 – 135 Street NW
Pastor Dennis Milne and Pastor Ralph Griggs officiating.
In lieu of flowers, donations can be made to Dovercourt Baptist Church, dbchurchedm@gmail.com
The Service will be live streamed at https://dbcedmonton.faithlifesites.com/?ssi=0 then scroll down to see the note for Ingrid DeLancey Service