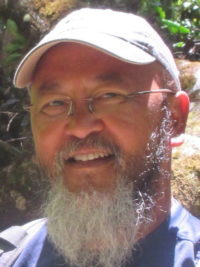 Inin (Higino) Carreon
05 November 1965 - 27 November 2020
It is with deep heartfelt sadness to announce the passing of Inin.
A wonderfully kind, free spirited, caring, incredibly complex, private, intelligent, creative and funny man.
Inin was truly one of a kind. Anyone who had the opportunity to know him, play sports with him, go to school with him, work with him, you were definitely in great company and shared good conversation.
Inin was born in Cebu Philippines to Vicenta Robertson (nee Igot) and late Higino Carreon Sr. He is survived by his partner Kerri Gafka, mother Vicenta, brothers Edwin and Terry, their wives, nieces and nephews. Loved immensely by his extended family Colin, Travis, Michelle, Emily and Haley, as well as a few chosen close friends and numerous colleagues.
Inin moved from the Philippines at a young age and grew up in California. After high school he spent time serving in the US Navy. He spoke fondly of his military comrades and told stories of being at sea on the aircraft carrier USS Carl Vincent. After leaving the military…if you knew Inin you knew he was not fond of being told what to do - so he moved to Alberta. His true passion for anything sports related led him to obtaining his Bachelors degree in Phys-Ed at Red Deer college. Any future career in this field was cut short when he suffered two extensive knee injuries. He always said he applied to nursing on a whim and was surprised but happy when accepted to the University of Alberta where he obtained his second degree, a Bachelors of Science in Nursing. His exemplary work ethic, dedication and commitment, attention to detail and pride of professionalism were something to be admired and leaned from.
Inin loved to travel and had the opportunity to see many places around the world. Haida Gwai, Central America, South East Asia and Australia were some of the most notable places he spent time in.
For anyone who really knew Inin, you would definitely know he was a man of innumerable gadgets. Researched, knowledgable and better than any google review anyone could ever need. Ohhh the gadgets, flashlights, pens, knives, shoes, watches and tools.
Inin enjoyed spending time building things, watching movies, drinking beer, outdoor activities, sports, helping others, great food, four letter words, tattoos and animals.
In true honour and acknowledgement of Inin's free spirit his cremated remains will be spread around the world by family and friends. To remember him individually and honour his amazing sense of humour, raise a glass, turn on a flashlight and share a memory. Forever loved, greatly missed and never forgotten.
Due to Covid, the hope will be to have a outdoor celebration in his honour for family and friends in the spiring. For further information please contact a family member or one of his select close friends. Rest in peace Inin xo.