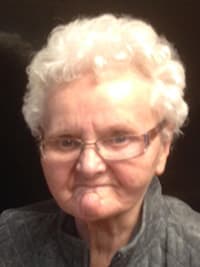 Irene Fedoriuk
It is with heartfelt sadness that we announce the passing of our loving wife, mother, and grandmother Irene Fedoriuk (Zack) on March 17 in Edmonton at the age of 79.
Irene is survived by her loving husband Julian of 58 years; her three children: Rod (Cindy), Myra (Andy), and Colleen (Kevin); and five grandchildren: Lee (Brandon), Shanna (David), Tyler, Kyle, and Kalyna. She is also survived by her brothers Peter (Maria) and Walter (Liz), and sister Loretta (Lawrence) plus many nephews, nieces and cousins.
Irene loved her family and enjoyed being a Baba. She had a beautiful smile and was always full of energy. She will be remembered as a great homemaker and compassionate caregiver. Some of her many talents included dancing and growing breathtaking flowers. She was exceptional at gardening and enjoyed cooking Ukrainian food for family and friends. Her specialty was her delicious homemade soups.
Irene is predeceased by her parents Nickolas and Mary Zack, her brother Bill, sisters Nellie and Jean, and niece Beverly.
Irene will be forever missed. A Celebration of Life will be held May 12 (12 pm - 4 pm) at 15499 Castledowns Rd.
Thank you to the kind staff at Norwood palliative care.