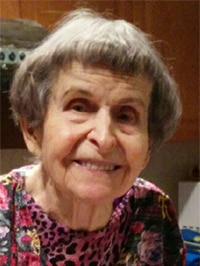 Irene Klos
Irene passed away peacefully at the age of 91 years on Thursday April 12, 2018, at Edmonton General Care Center.
She was born October 27, 1926 in Radom Poland. Irene is survived by her children; Denise, Conrad(Rita), Paul(Annie),Richard ;grandchildren Alisha, Taja, Justin, Richard, Evan, Ethan and Emily. great-grand child Willow. She was Predeceased by her husband Paul in 1991.
Irene was always willing to lend a hand to her kids and grand kids, Her passions were gardening and time with her grand kids.
It was Irene's wish to not have a formal service.
Our hope is that all family and friends will remember her for her love of family, bike rides, walking and gardening.