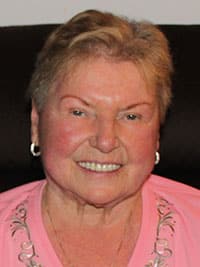 Irene Madeline Laidlaw (nee Malainey)
January 26, 1941- March 20, 2020
It is with heavy hearts that we announce the passing of Irene. She was born on January 26, 1941 in Spirit River, Alberta.
Irene lived 79 years with endless love for her husband Douglas of 58 years, her 3 children Debi, Kim (Barry), and Doug (Tammy), as well as 5 grandchildren, Tasha, Douglas, Logan, Ben and Anthony.
Irene was many things to many people but above all she was kind, caring, funny and a great story teller. She loved travelling coast to coast, going on many ocean cruises, Las Vegas, and being a snowbird in Yuma, Arizona.
She was a dear Wife, Mother, Granny and a friend and will be lovingly remembered by all.
Predeceased by her father Harry, mother Dora, and brothers Michael, Freddy and Tom. She is survived by siblings William, Shirley and Daniel.
A Private Celebration of Life will be held on Saturday June 27 at 10:00 am at
Annunciation Church
9420 163 St NW, Edmonton, AB
A private family gathering will follow.