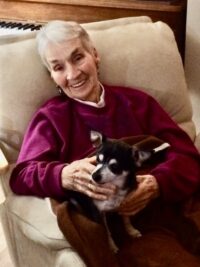 Irene M. Randle
November 28, 1931
-
November 28, 2021
It is with great sadness we announce the passing of Irene Randle (nee Larson) on her 90th birthday, November 28, 2021. Irene was surrounded by family as she passed away peacefully in Stony Plain, Alberta.
Irene is remembered with love by her; Children; Diane Randle, Terri-Lee Randle, Kim (Mike) Emblau, Ward Randle, Tracie (Graham) Wallace, and Curtis (Melinda) Randle, and her former daughter-in-law, Lesa Robinson. Grandchildren; Candace, Jesse, Katie, Robert, Chelsey, Brandy, Tanya, Tabitha, Nicole, Alicia, Ashley, Jamie, and Hayley. Great grandchildren; Serena, Sage, Jace, Damien, Cain, River, Skylar, Rayne, Forest, Drustin, Samantha, Lawrence (L.J.), Maverick, and Gabriel. She is also survived by her brother Glen Larson, brother-in-law Norman Ford, sister-in-law Ardis Larson, many nieces, nephews and cousins, and her best friend since childhood, Dicksie Helm.
Irene was predeceased by her former spouse (and eternal friend) John Randle, her parents Maxine and Louis Larson, and her siblings; Ronnie Larson, Clara-Lou Lukens, Laverne Ford, Charles (Tuffy) Larson, and Wayne Larson.
Born in Manville, Alberta, Irene grew up on a farm near Irma, Alberta and still has many friends and relatives in the Irma area. While growing up, her family was deeply involved with music. At a young age she taught herself piano and as a teenager she became part of a dance band which included several of her family members. She bounced on those piano keys many a night, playing everything from waltzes to polkas to ragtime. A very gifted piano player she continued to entertain others throughout her life. The farm was also where Irene's deep love of horses and animals was born. She experienced many of the adventures that came with farm life, including riding a horse several miles to school, the beginnings of her lifetime rapport with horses.
Irene married John Randle in 1955 and they eventually settled in Canmore, Alberta, where they established a trucking business and raised their six children. Although a busy lady with six children and a business to run, she still found time to play piano in a dance band on the weekends. As well, she became part of the art community, taking courses at the Banff School of Fine Arts. Producing numerous paintings treasured by friends and family, she also received recognition for her work when one of her paintings was chosen to hang for an exhibit at the U of A.
Her children fondly remember a rich life full of music, art, horses, nature, and community. Irene was a 'mother' to many beyond her own children, and her home and car were often filled with her kids and their friends. She often took the children on drives up into the mountains above Canmore, where she would let the kids explore nature while she sketched and painted.
Irene was a free spirit who took on many roles in her life including mother, artist, professional musician, and as well that of being the Trail Master at the Rafter 6 Guest Ranch in Kananaskis. Managing the horses and stable staff there, she led many an awestruck tourist on trail rides through the mountains.
Upon retirement, Irene divided her time between Canmore, Strathmore, and the Spruce Grove and Stony Plain areas. Eventually, she permanently settled in the Spruce Grove and Stony Plain area to be close to where most of her children and their families lived.
We shall miss her zestful presence and are happy she is free to continue her journey.
There will not be a formal service for Irene as her wishes were to have her ashes scattered in the mountains in Canmore and the family will be doing this in the spring. If so desired, donations in Irene's memory can be made to either the Heart and Stroke Foundation or the Alzheimer's Society of Canada.