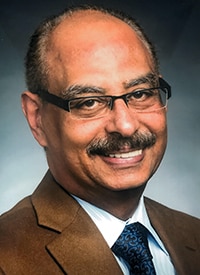 Isaac Yakoub Isaac
August 25, 1958 – Fayoum, Egypt
August 9, 2019 – Edmonton, Alberta
Isaac Yakoub Isaac, beloved husband, father, grandfather, friend and teacher, passed away peacefully on August 9, 2019 at the age of 60 years. Predeceased by his mother Soad and father Yakoub. Survived by his loving wife Loies, his sons Abraam (Lindsay) and André (Daniela); his grandchildren Ella and Luca; his sister Amany and brother Akmal (Mervat); and his nieces Anne and Angela.
Born in Fayoum, Egypt, Isaac trained as an engineer at the University of Cairo where he met his wife of 35 years, Loies. Isaac was a brilliant engineer and physicist, obtaining his MSc in Engineering Physics in 1989. Along with his young family, Isaac moved to Edmonton in 1990 where he completed his PhD in physics. He went on to become a professor at the University of Alberta in the Department of Physics, and was a celebrated teacher and administrator. His faith in God and commitment to living a Christian life were inspirational. He was passionate about serving his community through volunteer work with Beulah Alliance Church and the Edmonton Arabic Evangelical Church. More than anything, Isaac loved being with family and friends and was the best husband, father and grandfather anyone could hope for. We will deeply miss his heartwarming laugh, immense love, and peaceful presence that uplifted all of those around him.
A Celebration of Life service will take place at 1:30 p.m., Friday, August 16 at Beulah Alliance Church, 17504 98a Ave NW, Edmonton, AB T5T 5T8.  In loving memory of Isaac, an educational scholarship will be created in his honour. In lieu of flowers, please consider making donations to the scholarship fund via isaac.isaac.scholarship@gmail.com.