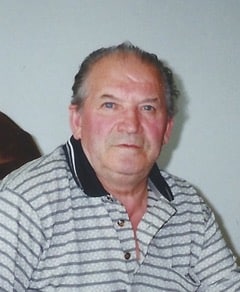 Ivan Prša
June 22, 1937 - May 5, 2019
On Sunday May 5 2019 Ivan Prsa passed away at the age of 81.
He was born on June 22, 1937 in Adžamovci, Croatia to Nikola Prša and Milica Badanjak.
The youngest of three siblings. He adored his sisters Marija and Mandica, his sometimes tormentors. With the passing of his father Nikola and later stepfather Petar, he was counted on to do a man's share of the work in the fields. After grade six this became his harsh reality because in those days, if you didn't grow it you did not eat it. After many struggles and setbacks, with hard work and perseverance things finally turned around. Slowly but surely his empire of dirt, corn and wheat, potatoes and turnips, beans and barley and the occasional smoked sausage began to flourish.
He was always in the centre of action, helping the neighbours, hiring out to work for others or when the army reserves came calling at the most inopportune times.
It so happened that opportunity came calling, and in 1975 with the help of his sister Mandica and brother in law Petar we became fresh imports in Edmonton. A day after landing he donned his carpenter's tool belt and never looked back. Many construction jobs, renovation projects, fences and decks have his fingerprints to this day. Those were the good old days and with the arrival of grandchildren he was on top of the world. Unfortunately, all things come to pass. Eventually, his health started to turn. Hernias, heart attack, pacemaker and other troubles and ailments took their toll.
On Sunday, things took a hard turn and he could not recover. Now, all that is left is for each of us to say our last farewells.
Ivan is survived by his wife of 59 years Terezija, sons Nick (Sonia) and Zdravko (Cora Lee) and daughter Ivanka, grandchildren Nicholas, Alison, Nigel, Ryley, Liam, Justin and great-grandchildren Carter, Kloe and Beau along with many cousins, nieces, nephews and their families. He is also survived by his sister Mandica (Petar Petrović). He was predeceased by his parents and his sister Marija (Franjo Gregurić).
Funeral service will be held at Trinity Funeral Home located at 10530-116 ST NW Edmonton, on Thursday May 9th, 2019 at 10:00am.
In lieu of flowers please consider donating to the Heart and Stroke Foundation or the Mazankowski Hospital.