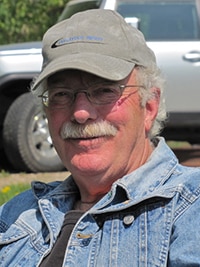 Jack Fitzsimmons
July 21, 1949 – October 23, 2020
Jack passed away suddenly on his 49th wedding anniversary.
He loved camping, fishing, hunting, and his thirty years of motorcycle trips with his friends the Lemmings.
He loved the outdoors,  and his flowers and garden were second to none.  He kept meticulous care and attention to his lawn and his strategic magpie control measures.
The thing Jack cherished most in life was family.
Jack will be lovingly remembered by his wife Trudy, his brother-in-law Daryl (Judy) nephews Sam (Katie), and Lucas (Kayla), and his niece Jenny (Cary).
He is also survived by his father Harold, siblings Duane (Irene), Cheryl, and Ron (Melody); his mother-in-law Juanita Wade, sister-in-law Joanne Fox (Dave), and his numerous nieces and nephews. Jack was predeceased by his Mother Margaret.
Jack will be forever loved and never forgotten.
In lieu of flowers, donations can be made to the Alzheimer's Society of Alberta and Northwest Territories.
In lieu of a funeral a small family gathering has taken place.