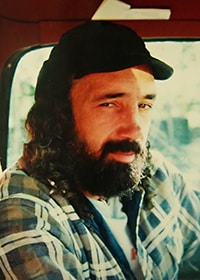 Jacques Adrien Marcil
Jacques (Jocko) was born on September 11, 1954 in Gravelbourg, SK and lost his battle to cancer on January 1, 2019.
He grew up in Courval, SK with his eight siblings in a home filled with love, laughter and good food. There was never a dull moment in those years and Jocko was often the one responsible for the excitement or trouble depending on who was relating the story.
Jocko was predeceased by his mother Yvette (Poisson) Marcil in 1979, his father Richard Marcil in 2005, his brother-in-law Lynn Turner in 2017 and a nephew, Travis Marcil-Coates.
He is survived by his children: Adrien (Sharalee), Shayne (Jessie) and Kymberlee (Eric), step son Darryl (Tara), 10 grandchildren: Colby (7), Wyatt (5), Jaxon (3), Bladen (20), Serina (17), Paxton (13), Cyrus (13), Emmett (10), Evelyn-Rose (6) and Ellanor (3) and his siblings Denise, Francoise (Lloyd), Joseph (Sandy), Paul (Evelyn), Rene (Rose), Carmene (John), Michelle (Lawrence) and Ricardo (Jocelyn) along with numerous nieces and nephews.
Jocko lived life his way and enjoyed as many experiences as he could. He was a kind and gentle man who was loved by all. He leaves behind not only a family who loved him deeply but a large and eclectic group of friends who had nothing but respect for him.
His bigger than life presence will be missed by all and his memory and stories will be kept alive by his children, siblings, nephews, nieces, cousins and his friends.
In keeping with Jocko's wishes, his ashes will be scattered at Old Wives lake in Saskatchewan, a place he always considered home no matter where his other travels and adventures took him.
"Good Trails and Happy Hunting"
Celebration of Life
Saturday, January 19, 2019 2:00Pm
Trinity Funeral Home
10530 116 Street, Edmonton AB