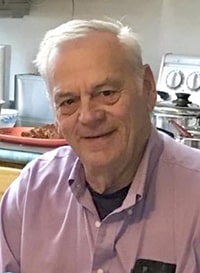 James Robert McGinnis
September 15, 1940 - January 4, 2020
It is with deep sadness that we announce the passing of James Robert McGinnis, beloved husband, father, brother, grandfather, uncle and friend. He is survived by his wife Jackie (née Sylvestre), daughter Michelle (Rick) Shimenosky, son Douglas, grandsons Connor and Samuel, sister Gwen (Barry) Croucher and brother Gordon McGinnis. James was predeceased by his parents Dick and Florence (née Diamond) McGinnis, brothers Douglas, Maurice and Dale, sister Ruth Detchon and his best friend Andy Hrynyk.
James was a quiet gentle giant of a man who loved his family and worked hard everyday to provide and care for them. He was born in Elk Point, went to school and worked hard on the family farm. As a young man he worked on the oil rigs, then progressed to hauling water for the rigs.  Later, he owned and operated his own gravel truck , so that he could work on a variety of construction projects.  He eventually began working with the crew of Camp 212 of the Alberta Department of Highways both repairing and building roads.  One of his largest projects was building the road into Grande Cache. He was a loyal friend, keeping in touch with his trucking buddies through all the years. During this time, the family took up skiing and James and Jackie also enjoyed trips to Okanagan and Osoyoos, B.C.
In 1990, James suffered a massive heart attack and he was unable to return to trucking but that didn't mean that he stopped working! He was always very good working with his hands and he loved to tinker, build and fix things. He turned his skills to woodworking, crafting many fine pieces of furniture. He undertook kitchen renovation projects for his home and his daughter's. He routinely scavenged for treasure down the neighbourhood back alleys, finding and fixing lawn mowers, snow blowers, tea kettles, vacuums - anything that someone else couldn't make work. He fixed it and either gave it away or sold it on kijiji. He always had to be busy, working on a project. He had help on some of the bigger projects from his nephew Carl Kaziechko and his brother-in-law Ralph Sylvestre. In the last few years he and Jackie tackled a different type of problem as Jackie was diagnosed with Parkinsons. His devotion and care of his "Shortie" never wavered. He discovered Facebook and enjoyed seeing what his various family members were up to. YouTube was another favourite as he discovered vintage recordings of country and folk music and even some helpful "How To" videos.
"We'll love you forever and miss you for always"