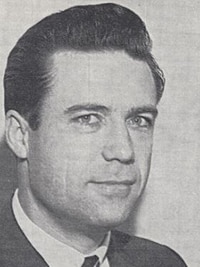 James Roebuck
We are sad to announce the passing of James Roebuck. James was born in Ecclesfield, England on November 30, 1931 and passed away on July 24, 2018 at Edmonton General Continuing Care Center after a long battle with Alzheimer's and dementia. Originally trained as a machinist, James served two years in the British military from 1950-1952. He immigrated to Canada in 1954 and made his way to the Edmonton area where he met Laura Bilowus. James and Laura were married in 1956. He was predeceased by his father James, mother Issabela, his two brothers, John and David. James is survived and mourned by his loving wife Laura, daughters Kim, Marisa, Bryn, son James Kevin, many other relatives and friends near and far.
James worked mostly in publicity and public relations and was widely recognized for his writing and editorial expertise which he utilized on behalf of various organizations and publications. He held positions at Inland Cement, the Alberta Publicity Bureau and the Alberta School Trustees' Association. He worked for the Edmonton Journal from 1966-1979 and as the Promotions and Public Relations manager he represented the Journal at many events and conferences throughout North America.  An avid reader, James was very intelligent and could learn how to do almost anything by reading and researching the topic in a book. It was no surprise that he started his own publishing company, Hallamshire Publishers, and the company released several books during its existence.
James had a great sense of humour and devoted his life to working and looking after his family. He enjoyed gardening and going for long walks in his community (just like his father).
A big thank you to all of the staff at both Villa Caritas and Edmonton General for the excellent care provided to James. James did not want to have a service and cremation has taken place in accordance with his wishes.