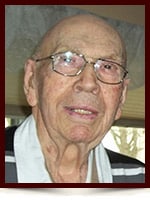 James Rolandson Hewitt
James Rolandson Hewitt
On May 13, 2015, James passed away peacefully at the age of 90.
He is predeceased by his parents Selena and Robert, sister Esther (Hewie) and wife Ruth.
Born and raised in Pincher Creek, Alberta, he was a veteran of WWII serving with the Royal Canadian Army Service Corps in Holland, Belgium and France. A plumber by trade he worked in his own business and then with Alberta Provincial Parks and raised his family in Pincher Creek and Edmonton. A gentle man, he was kind and welcoming to all those he met.
Jim will be especially missed by Julie, his long-time partner, friend and companion.
Cherishing his memory are his sons Russ (Tanice), Niel (Wendy), and Ron (Sharyn), grandchildren Jessica (Geoffrey), James (Naomi) and Spencer (Kyra).
The family is deeply appreciative of the very kind and professional care of the nurses, doctors, and staff in the Emergency Dept and the Robbins Centre of the Royal Alexandra Hospital.
A private Celebration of Life and interment will be held by the family at a later date.
In lieu of flowers donations to the Alberta Lung Association would be appreciated.
Contact Information:  [wpseo_address oneline="1" show_state="0" show_email="0"]