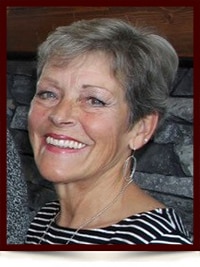 Jane Ann Hettinger (nee: Lawrence)
 February 2, 1949  - August 2, 2017
Jane died peacefully with her family at her home after a hard-fought battle with cancer.  Jane is survived by her husband Bruce, daughter Vanessa (James) and son Dennis (Sheena), brothers Andrew, Herman (Linda), Greg (Rose), Philip (Darlene) and Paul (Donna), brother-in-law Alan (Laura) and sister-in-law Lisa, as well as numerous nieces, nephews, extended family and a large network of friends. She is predeceased by her brother Ken, her brother Ron, her sister Helen and sister-in-law's Evelyn and Carol.
Jane's career included many different positions in the travel and hotel industry, although her greatest joy in life was always her family and friends.
For the last eight years, Jane fought off multiple myeloma cancer with the support of her family and friends as well as a top notch medical system.  These groups – along with Jane's unbelievable will to live – allowed her to not only cope with this disease for many years longer than originally anticipated, but to flourish and enjoy life to the fullest.  Jane's determination allowed her to golf, curl and do all the things she enjoyed up until the last year of her life.  Her love for her friends and family will remain forever strong.
A funeral mass is scheduled for 10:30 am Saturday August 12th at St. Agnes Parish (10826 62 Ave NW, Edmonton, AB) with a reception to follow in the church basement.
All are welcome to attend and celebrate Jane's life.
In lieu of flowers, please send donations to the Multiple Myeloma Society at their website – www.multiplemyeloma.ca.
The family would like to thank the Cross Cancer Institute, the U of A Hospital and the Palliative Homecare Doctors, Nurses and Caregivers for all of their empathy and support.