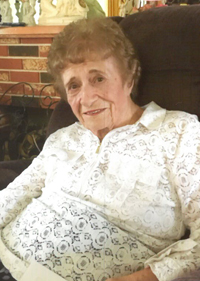 Jane Bersani (nee Esopenko)
June 13, 1923 – March 4, 2020
It is with heavy hearts that after a long life, the family of Jane Bersani announce her passing on March 4, 2020 at the age of 96.
She will be dearly missed by her sons, Donnie Cebuliak and Loris Bersani, her Daughters, Arlette Wowk and Arlene Cebuliak, her 13 grandchildren, 15 great grandchildren and her sister Elizabeth Dalby.
She was predeceased by her husband Omer Bersani, son Mervin Cebuliak, daughter Linda Cebuliak and grandson Jason Bersani, her brothers John(infant), Mike and William Esopenko and sister Mary Kotyk.
Jane traveled to Russia, Italy and spent many vacations in Hawaii and Mexico.
She loved family parties, gardening and especially the slots and the casino.
A memorial will be held at a later date in the Spring.