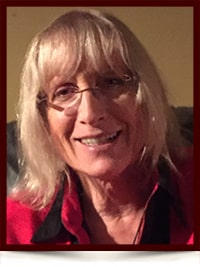 Jane Speer
Jane Speer was hospitalized unexpectedly late August upon being diagnosed with a brain tumor. Jane developed pneumonia while in the care of the nursing teams in various neurological wards of the University of Alberta Hospital and passed away October 15 from related complications.
Jane was a proud 35-year resident of Mill Woods, having emigrated from. Winnipeg where she and her six siblings were raised. Always a highest-mark, award-winning high school student, Jane capped her education with a B.A. Liberal Arts with an ARCT major based on her classical post-secondary piano training substantiated by church pianist duties from early in her teens.
Jane, a non-dogmatic vegetarian for decades, was an avid fan of movies and pop culture, fashion and holistic health. Jane was legendary for her sharp wit, her sense of humour, and for riding her replica 'fat tire' bicycle great distances beyond her neighbourhood. Jane's favourite time of year was Christmas; she particularly enjoyed the live theatre productions of Charles Dickens 'A Christmas Carol' , having seen it for a record twelve year's running.
Jane took early retirement from Canada Post in 2010 and pursued a fulfilling retirement with family, friends and neighbours. On the post-retirement job-front Jane was anticipating continuing to daily driving a Golden Arrow school bus for her 'youngsters'.
Jane's most notable involvement of the past few years was the design, dialogue and filming of the breakout HTHLEGO U-tube video series, with its creator, her young friend and neighbour Chris, along with the support of Chris' mom, Carol.
In years past Jane was intensely involved in the establishment of Graunke Park and it's secondment into Edmonton's city park inventory. This parlayed into her valued on-going volunteer efforts on behalf of the Ridgewood Community League.
Jane is mourned by her siblings Darryl, Cliff, Murray, Sarah, John (Usha) and Sharon (John) Hayduk and long-time friend Gerry Bertrand, movie companion Byron Ward, gal-pals Loma and Lina, neighbours - the Huine family, Jack & Michelle and Manitoba nieces, nephews: Sarah Jr. & Rebecca Speer, Tim (Jessica), Drew & Chris Hayduk, and Nicholas Speer in Golden, BC and grand-nephews Porter and Clark. Jane was predeceased by her father Harold (45), mother Katheen (89), sister-in-law Colleen and her precious Poi (110 in dog years).
In lieu of flowers, a donation to the Ridgewood Community Graunke Park project in memory of Jane would be appreciated.
All are welcome to a celebration of Jane taking place Saturday, October 21st, 2:00 p.m. at the Ridgewood Community League Hall, 3705 Mill Woods Rd E NW, with light refreshments to follow.