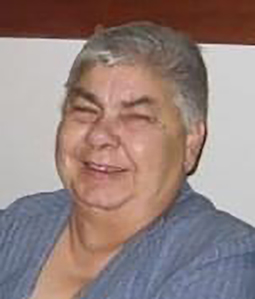 Janet Frances Wilson
March 28, 1938
-
February 14, 2023
Janet, who was born in Battleford, Saskatchewan on March 28th, 1938, held many titles in life—daughter, sister, mother, Baba, grandma, AJ, Auntie, Boss and friend. In nearly 85 years, she moved all across Saskatchewan, Alberta, Northwest Territories and Ontario. She married twice and had a son and four daughters. For the final twenty years of her life, she called Edmonton home.  For fourteen of those years, she lived at Porta Place Seniors Residence, where she became well known for her baking, perogies and soups that she shared with her neighbours and friends. In the twilight stage of her life, she enjoyed a more relaxed lifestyle at the Beverly Lodge attending social gatherings, participating in their many activities, and playing bingo—a lifelong favorite. She couldn't wait to tell anyone who would listen when she won, even if it was just $5.
It's fitting that she passed on Valentine's Day, when she was well-loved by so many. Jeanne, her sister who also stayed at the Lodge. Her baby sister, Val, who she attended a Valentine's Day Tea with. And when she passed, she was surrounded by those that loved her: Heather, Ian and his fiancée Rebecca, Andrea and Erin.
Janet was predeceased by her loving parents Laura and Bob Pearce, her most beloved granddaughter Nicole, two sisters and a brother.
As per Mom's wishes there will be no service at this time.  The family asks that, in lieu of flowers, donations can be made to the Heart and Stroke Foundation or the Canadian Diabetes Association in her memory.
The family would also like to thank the staff in the Emergency Department at the Royal Alex Hospital for their kindness in allowing us to spend time with her and the dignity they showed.
As a final thought as we grieve, we should take a lesson from her four-year-old great grandson Daxton who released one of his own heart shaped balloons the next morning when he was told about his Baba being in Heaven. Balloons are fun, Baba was fun and it would make Baba happy to get one.
Winnie the Pooh once said "How lucky I am having something that makes saying goodbye so hard"