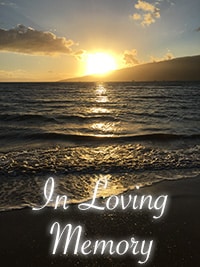 Janet Leslie Johnson (nee Hopkins)
Janet Johnson (Jan) nee Hopkins, passed away on July 17, 2020 at her home in Edmonton, Alberta.
She leaves behind her two children, Suzanne(Stephen Williams) Vuch of Edmonton, and Denys (Rhonda) Vuch of Calgary, and three beloved grandchildren Simon Williams, Sarah Williams and Isaac Vuch.
She also leaves her sisters, Dorothy (Ross) Harrison, Norma (Ron) Fleece and many adored nieces and nephews.
Jan is predeceased by her parents Evans (Bud) and Edna Hopkins, and a brother, Charles, in infancy.
She loved people, animals and adventure, and her sense of fun and joy will be deeply missed by all who knew her.
Jan was born in Regina Saskatchewan, July 21, 1951. The first years of her life were spent on the farm near Yellow Grass, developing a lifelong love of sunshine and the outdoors.
She told stories about the family horse who was more like a family member and the adventures she and Buddy would have.
Jan was the youngest child at school and recalled being sent for afternoon naps at the back of the one-room school house when she was small.
In 1954 the family moved to Broadview where they remained until 1965 when they moved to Regina. Jan attended Thom Collegiate and was an active volunteer with the Red Cross and the Girl Guides of Canada.
Jan continued her education after high school when she moved to Lethbridge, Alberta to attend the Lethbridge Community College.
Jan studied journalism in Lethbridge and there she met the first love of her life. She and Egidio Vuch were married until 1983 and had two children. Jan stayed in Lethbridge until 1985 when a new opportunity brought her to Edmonton, Alberta.  She worked for the Government of Canada in Edmonton and then Regina when she was called home to be closer to her
aging parents.
In 1989 she married the second love of her life, Kenneth Johnson, and she embarked on a new adventure with him. She left her desk-job, got her Class 1 license and went on the road as a long-haul truck driver.
She loved the open road and meeting new people along the way. An avid animal lover, of dogs in particular, she was finally able to bring her pet to work with her every day.
She travelled throughout Canada and the United States with Ken for many years, having a home base in Regina, then Wynyard, and finally Broadview, Saskatchewan.
She was forced to come off the road due to persistent health issues in the mid-90's, and settled into a life of gardening and crafting.
She opened and operated a greenhouse in the town in the late '90's. Jan was glad to be back in Southeast Saskatchewan, near to family and friends and the Pipestone Valley she loved.
Jan returned to Edmonton in October of 2018 to be closer to her children, grandchildren, and on to another adventure. When she was able, she attended swim meets, musical performances and played games with her
grandchildren. She moved into a senior's apartment and quickly made many friends and took advantage of the numerous social activities that were available.
She began a wonderful tradition of pot-luck suppers for her neighbors and created a real sense of community. Jan made everyone feel welcome, and like someone important.
The family will be having a grave-side service in Yellow Grass in the near future. In lieu of flowers, kindly forward any donations to a charity of your