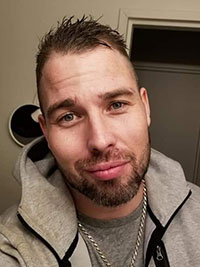 Jared Gordon L'Hirondelle
January 6, 1986 – March 15, 2019
It is with heavy hearts that we announce the sudden tragic passing of our beloved Jared L'Hirondelle after his long battle from a disease so much stronger than even he could overcome.
Jared was born in Grande Prairie, Alberta but grew up and spent most of his life in the Devon, Leduc and Edmonton areas.  During his time with us, he touched so many lives with his larger-than-life presence, huge smile and gentle heart and will be so very deeply missed by his family and extensive circle of friends.
Sadly, Jared leaves behind his two beautiful daughters Khloe (7) and Satori (5), his father Gordon L'Hirondelle (Carolanne), mother Susan L'Hirondelle (Ken), sisters and step brothers Danielle Bohn (Richard), Natasha L'Hirondelle (Sheldon), Robbie Chebli (Natalia), Codi Chebli, and Nick Chebli and his niece and nephew Emersyn and Parker.  He was predeceased by his grandparents Victor and Nellie L'Hirondelle and Buster Bennefield as well as his Aunts Donna, Toni and Frances.
Jared, we miss you beyond words.  You were kind, sensitive and had such a soft heart for kids and animals.  Everyone that knew you will forever remember your sense of humour, distinct animated laugh and your positive spirit. We will miss reading your beautiful poems and watching you dance and rap to your favourite songs.  We wish we had more time with you but will cherish the memories we have until we meet again. Love you always and forever.
In lieu of flowers, donations can be made to: --- Recovery Acres
Funeral Service
Friday, March 22, 2019 at 2:00 pm
St. David's United Church
4614-48 Street, Leduc AB
Interment
Leduc Cemetery