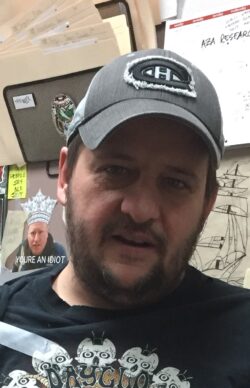 Jean-Claude Richard Seguin
August 24, 1978
-
April 23, 2022
It is with great sadness the Seguin, Barnett and Cloutier families would like to announce the sudden passing of Jean-Claude Richard Seguin born August 24 1978 at Kitchener Ontario. JC passed away on April 23 2022 due to a long battle with addiction.
Jc is greatly missed by mother(Rose Seguin-Barnett) step father (Tim Barnett) father (Claude Cloutier and wife Jane Cloutier). Brother (Kyle Barnett) sisters (Kaylah Barnett) (Melinda Cloutier) (Amy Cloutier). Nephew (Christian Barnett) Niece (Emma Barnett).  Partner of 19 years (Kerri Gresham), Future common law wife (Courtney Venning). Last but not least his pets Noopy and Bosco were his children
Jc worked all his life as a very talented welder. He was a huge Montreal Canadian fan and collector. Frequently attended music festivals worked on cars and loved the winter season for snowmobiling
We are all very saddened. He was a part of our every day but we are happy for his graduation to the angels and his departed loved ones including his brother Adam Cloutier. We know that you are now happy and free and we look forward to being with you again. Thank you for being a very special part of all our lives.