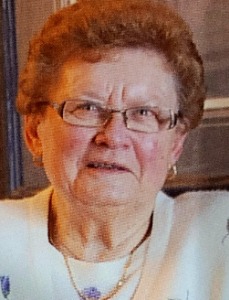 Jean Evans
August 23, 1928
-
November 23, 2022
Jean Evans passed away Nov.23,2022 at the age of 94. She was born in Vegreville, Ab on Aug. 23,1928.She was predeceased by her husband Gilbert Evans daughter Gloria Campion, her parents, four brothers and two sisters.
She leaves behind her three remaining children, Gale Presizniuk (Colin),Debbie Snaterse (John), Terry Evans (Barb), son-in-law Bill Campion and one sister Rosalind Hand. She also leaves behind the loves of her life, her many grandchildren and great-grandchildren, numerous nieces and nephews.
Our Mother would spend hours daily tending her flower and vegetable garden. She was a great Ukrainian cook and made the best borscht.
There will be a memorial celebrating her life early next summer at Ross Lake ( date to be determined)
We would like to thank Dr.J.Hirji for the on going care he gave our Mom. Also we would like to thank all of the RNs, LPNs, Health Care Aides and volunteers of Unit 2300 of Extended Care Eaux Claire for their compassion and mostly the friendship they showed our Mom and her family. God bless them all.