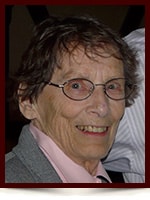 Jean Kemp
Happy birthday and goodbye to our beautiful mother who came into this world on January 17, 1923 and left it on January 17, 2015. Jean Kemp was a master knitter, a consummate seamstress, a wonderful cook, avid gardener and an amazing mother to five perfectly normal children. Mom was an exceptionally intelligent woman who instilled in all of us an appreciation for books, arts, music and independent thought. She had a generous spirit and supported many worthy causes. Despite her many talents, like the rest of us, she was not perfect. She was a member of the Scotch Tape School of Hair Cutting and couldn't carry a tune in a bucket or find her way out of a fabric store.   She is loved and will be missed by us all.
Jean is survived by four daughters, seven grandchildren and one great grandchild. She was predeceased by her son, Gordon.
For those who knew Jean, please join her family in a celebration of her life on February 1, 2015 in the Royal Suite, 23rd Floor, Chateau Lacombe, 10111 Bellamy Hill NW Edmonton, Alberta, between 1:00 pm and 6:00 pm.
In lieu of flowers, please make a donation to the charity of your choice.
Contact Information: [wpseo_address oneline="1" show_state="0" show_email="0"]