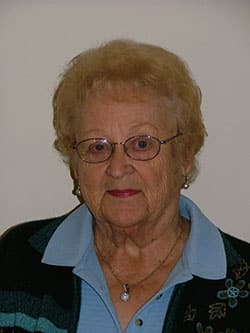 Jean Rosenke
It is with deep sadness we announce the passing of Jean on October 4, 2020, knowingly taking comfort her suffering has mercifully ended.
We are left to cherish her rich memories of being a wonderful wife, soulmate, mother, grandmother who touched everyone she met with kindness and sincerity.  She possessed a positive personality trait and a zest for life at all times.  We will miss her infectious laughter.  She exhibited a high degree of grit and determination throughout her life.  Once she made up her innovated mind there was nothing she  could not do or accomplish.  In the later stage of her life she indicated many times that she was fortunate to have enjoyed a full and rewarding life.  She particularly enjoyed the many winters spent in Arizona socializing, meeting old and new friends and golfing.  Her love of golf commenced upon retirement.  She was never disillusioned by the technicalities of the sport.  She excelled in it by winning a number of ladies and mixed tournaments in a very short time frame and captured the ultimate illusive (HOLE IN ONE) on a difficult par 3 on a championship course.   She was elated emotionally many times beyond comprehension. Mission Accomplished.
To carry on, inspired by her love and spirit is her husband and soulmate of 68 years  Len, son Gary and his wife Bettey, granddaughters Kristina, Katarina, grandson Jonathan and numerous nieces and nephews and extended family.
She was predeceased by her parents John and Mary Wolanski, brothers Joe, Jim, Tom and sister Joan (Olga).
Please know our hearts are full of gratitude for the many family and friends who showed their support for Jean and family, with a myriad of kind gestures and words over the last few years/months.
We would also like to extend our sincere appreciation for the compassionate care received from the team of doctors and nurses support staff from the Royal Alexanderia Hospital.
Cremation has taken place.
At Jean's request and due to the virus/pandemic a family celebration will be held at a later date.