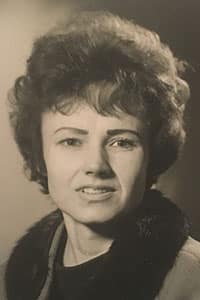 Jeanne Frank née Genia Jean Burzec
Jeanne Frank
Nee Genia Jean Burzec
It is with heavy hearts, that our family announces the loss of the pillar that has always been there throughout our lives.
On August 27, 2019, Jeanne Frank passed away at the age of 87 years. She was born to Eastern European parents in Hilliard, Alberta on May 19, 1932.
She is predeceased by her parents, brother and 2 sisters.
Jeanne leaves her 3 children Monica, Brad (Annette) and Lori (David), 5 grandchildren Chad (Tessa), Ian, Leah (Andrew), Kevin and Travis as well as great-grandchildren Ava and Daphne, to mourn her loss.
Our family would like to extend a sincere thank you to Dr. Chana and his caring staff at the Edmonton General Palliative unit and Chaplain Arthur Peterson for his care and prayers.
Pastor John Wesley will lead the Memorial Service for Jeanne on Friday, September 6, 2019 at 10:00 am at Trinity Funeral Home, 10530 116 Street, Edmonton.
A private family interment will be held at a later date.
Jeanne wanted us all to know that "she is looking forward to meeting us again in God's Eternal kingdom".