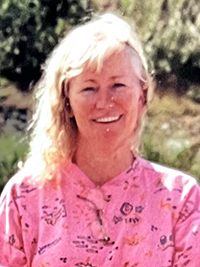 Jeannie White (née Chafe)
Passed Away
August 6, 2022
It is with overwhelming sadness and happy memories that our family announce the peaceful passing of Jeannie White (née Chafe), age 66, in Sherwood Park, Alberta on August 6, 2022.
Predeceased by her mother Jean Chafe, father Kevin Chafe, and brother Doug Chafe. She is survived by her loving husband Glenn White, daughters Katie and Cassie White, brother Geoff Chafe (Darlene Chafe) and sister Karen Chafe (Glenn Stacey), as well as many other family and friends.
After being diagnosed with Multiple Myeloma in 2016, she eventually beat cancer in 2017 and lived in remission for the remainder of her life. She remained a fighter until her last day, despite multiple health issues in her last years.
Jeannie is remembered for her strength and courage, as well as her sense of humour and kindness. She was an amazing mother and wife. The deep void left by her absence will never be replaced.
We continue to appreciate the support from everyone who knew Jeannie. We encourage everyone to share memories and stories they have of her.
A Celebration of Life will be held at the home Jeannie and Glenn shared together in Sherwood Park, Alberta, on August 20, 2022. This date would have been Jeannie's 67th birthday.
(P.S. Mom if you're reading this from above, we are sorry for any spelling and grammar mistakes- you were always the person who edited anything we ever wrote- Love Katie and Cassie)