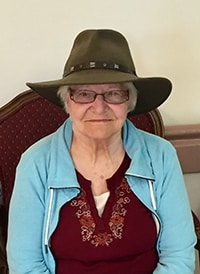 Jeannine Florence Tanasichuk (Rondeau)
Born February 14, 1932. McLennan, AB
Passed Away July 30, 2019. Edmonton, AB
It is with deep sadness that the family of Jeannine Florence Tanasichuk (Rondeau) of Dawson Creek, BC, passed away peacefully in the early morning of July 30, 2019.
Jeannine is remembered by her 5 children:  Roger (Jody) Carmen, Gregory (Bonnita) Lizanne (Robert) and Todd (Kristi), as well as 16 grand-children, 18 great-grand-children, her siblings Cecile, Claire and Aurele, and many other relatives and friends.
Jeannine was predeceased by her parents, Louis and Yvonne Rondeau, her first husband Roger Sr St. Pierre, her second husband Michael Tanasichuk, her step-father Wesley Habkirk, and her siblings Emma and Paul.
Jeannine was born on Valentine's Day, 1932, which is fitting because Jeannine was a person of great love.
As a child, Jeannie loved ice-skating, drawing and playing with her siblings. In her late-teens, Jeannie fell in love and married Roger Sr. in 1950. The young couple moved to Whitehorse, YK and started a family. By 1963, they had 4 children and had moved to Dawson Creek, BC, where Roger Sr built a home. Tragically, Roger Sr unexpectedly passed away that year. Jeannine showed her strength, raising her children while going to work full time at the post office, a position she held for 25 years. Times were hard but she never wavered in her role as a dedicated, loving mother.
In 1966 Jeannie remarried, to Mike Tanasichuk, and in 1970 she had her fifth child, Todd. Jeannine loved to spend time gardening, building her relationship with Jesus, travelling, playing cribbage, camping, being with her family and entertaining friends. She greatly loved when all her children and grand-children visited her home at the same time and was an excellent cook. Her tourtiere was phenomenal! She was a regular presence at her mother Yvonne's massive family gatherings on Sunday nights, laughing and telling stories with her card-loving siblings. Those times are greatly missed.
In 1991 Mike passed away. Jeannine continued to live life passionately, travelling extensively and perfecting her skills at many crafts, including hook rugs and crewel. Jeannie continued her dominance as the family cribbage champion and eventually moved to Edmonton in 2016, to live out her remaining days.
Jeannine will be remembered as a strong, loving mother and sister, devoted to her family and her faith in Jesus.
"We love you always Jeannie. Thank you for the values you instilled, the example you gave, and the love you taught."Nous t'aimons beaucoup, Maman".