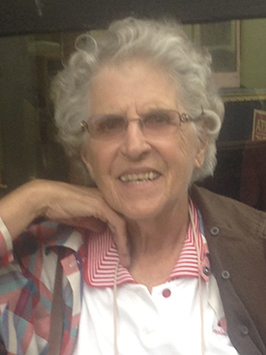 Jennie Monson
February 22, 1931
-
December 15, 2021
Sadly, the family announces the passing of Jennie Monson at the age of 90 years. She passed away peacefully surrounded with love and care by her family.
Jennie met George on a blind date and they married in 1951. Together they started Monson's Tree and Landscape Service and built their dream home in the Highlands, where they raised their three children.
Jennie treasured her friendships, some of which she nurtured for almost 70 years. As an avid outdoors-woman, she loved speed-skating, cross-country skiing and spending time with her family at the cabin on Lac Ste. Anne. With her love of nature and the outdoors, she had a lifelong passion for hiking and adventures in the mountains. In later years, Jennie joined the smaller group of Wildrose Ramblers, a walking group of women who also loved the outdoors. Jennie was fortunate enough to join her friends on walks up until this past summer.
Jennie was a very active member of Augustana Lutheran Church and a board member of Augustana and E4C, a non-profit charitable organization.
Jennie was predeceased by her brother Andrew, sister Anastasia, husband George, two sons Reg and Geof and son-in-law Ralph. She will be dearly missed by her daughter Becky Hole, daughter-in-law Cathie Monson, grandchildren Chris Monson (Bethany), Darcie Chaves, Nicole Monson (Derek), Rachel Hole, Ralph Hole, Emily Hole (Matthew), Heather Hole, five great-grandchildren, nieces and nephews and many dear friends.
Jennie was a kind soul. She was an extraordinary person who was loved by many and will be greatly missed.
The family will celebrate Jennie's life with a memorial service at a later date in 2022.
Donations may be made to the Alberta Cancer Foundation - Ralph King Hole Jr. Endowment Fund (Camp Beat It): 710, 10123 99th St, Edmonton, Alberta, T5J 3H1, or to a charity of one's choice.